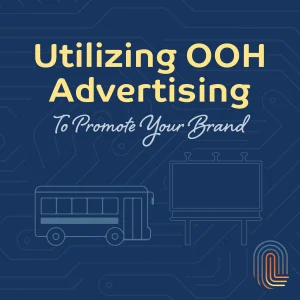 Utilizing OOH Advertising to Promote Your Brand
While digital advertising continues to grow its share of the overall media mix, out-of-home (OOH) advertising is still a common and effective way to increase awareness and promote your brand. But you may be wondering – what is out-of-home advertising? It's as simple as it sounds. Out-of-home advertisements are any type of advertising that you see outside of your home, not on your mobile device.
There are many reasons why out-of-home advertising can be beneficial for your brand. Read more to learn about the different types of out-of-home advertising, media planning strategies, design considerations, and ways to measure campaign effectiveness.
Benefits of OOH Advertising
OOH advertising can merit inclusion in your marketing strategy due to a variety benefits:
Cost-effective: While some consider OOH advertising to be expensive, it actually has a lower CPM rate than other forms of advertising given the reach and exposure. It can provide a good ROI especially when you are implementing long-term campaigns. (Source: com)
Audience reach/scale: While digital ads target audiences based on geographic, demographic and contextual factors, OOH advertisements can allow for wide scale reach since they are placed in high-traffic areas for various audiences to see.
Increased brand awareness: Since these advertisements are placed in high-traffic areas, they often lead to enhanced brand awareness, brand recall, recognition and engagement with the same ad elsewhere.
They can't be avoided: OOH advertisements can't be avoided because users can't shut down their devices or install pop-up blockers.
Types of OOH Advertising
When we work with clients, we make sure to focus on the types of OOH advertising that will provide the best possible results.
Static billboards/posters: Traditional static billboards and posters are a great OOH advertising option because they allow for permanent, exclusive ad space in high-traffic areas, are often lit for select hours each day, and can often allow for an extension of the message beyond the footprint of the board.
---
Lundmark recently developed the marketing campaign for Crown Center's WeekEnder event series, and static billboards and posters were a crucial component to the plan. In addition to paid social, radio, and digital display, the outdoor posters and bulletins contributed to awareness of the event and drove event attendance. The posters helped to provide increased coverage at multiple locations throughout the city, while the bulletin was able to provide awareness to a large audience along a key freeway corridor.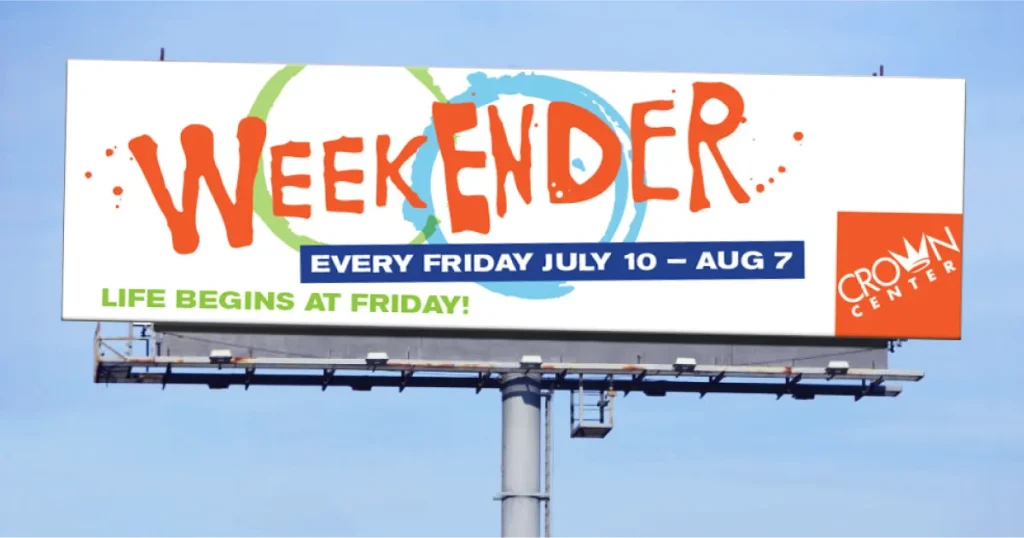 ---
Digital billboards: Digital billboards are another great option as they allow for creative flighting without the production costs of reprinting vinyl or boards. Digital billboards can also be less expensive to purchase and can be eye-catching, as they are always back lit.
Venue signage: Wallscapes, back-lit signage, and digital spectaculars (think Times Square) are just a few non-traditional OOH formats that can make an impact.
Transit advertisements: When it comes to transit advertising there are two primary options: interior or exterior. Like other types of OOH advertising, transit advertising can be an effective way to reach your target audience due to ridership frequency and since exterior ads are essentially moving billboards. Though coming at a higher cost, full wraps of transit vehicles can be extremely impactful to audiences along their route.
---
Transit advertising was included in the campaign we developed for the City of Independence Farmers Market. Through OOH and other marketing channels, the City of Independence gained a 20% projected growth within the program. The full story is available to read here.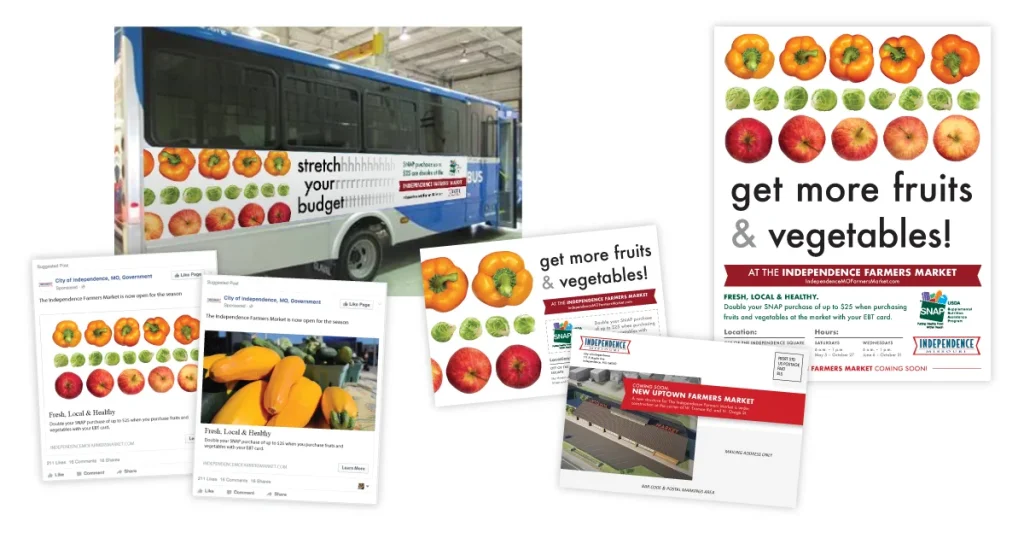 ---
OOH Media Planning 
Integrating OOH into your marketing strategy can take additional lead time when compared to other marketing channels. Thus, the media planning process is crucial to successful implementation.
Consider the location & target audience: When going through the planning process, advertisements must be placed in an area where your target market will see them. The first step in the process is to identify the geographic locales that you are looking to target.
Check inventory with the owner of assets: The next step is to check the inventory of the companies that own OOH inventory in the geographies that you plan to target. Often there are multiple companies that own static and digital boards in your desired locations, but some inventory may already be on long-term contracts. For digital OOH, ads can often be placed at gas stations, restaurants, gyms, etc. Sometimes these placements can be handled programmatically, but it is possible that they are handled by an exclusive sales agent.
Decide on a budget: The budget for your campaign will depend on the following factors: type and size of the media, campaign duration, and the geographic market of the campaign.
Production timing: Planning is required for production as artwork is typically needed at least 2 weeks before the installation, if not sooner. Digital OOH often requires less lead time than static alternatives, given printing and install is not required.
OOH Design Considerations
At Lundmark, we always make sure to consider the design aspects we are incorporating in our OOH advertisements, as they can make or break a campaign.
Keep it simple: Make sure the design is simple and uses contrasting colors so that it is visually appealing to audience members. If the creative is too busy, you'll often lose the hierarchy of the message you are trying to convey, and limit the effectiveness of the advertisement (Source: com)
Font type and size: It's important to consider both the readability and size of the fonts selected in the creative design.
Strong call to action: Cars can be driving very quickly past your message so it's crucial to get the most important information across with the action you are wanting your audience to take.
---
Lundmark developed a mental health campaign for Northwest Missouri State University to promote their My SSP app, which provides 24/7 free counseling services to students. OOH was placed near campus to ensure maximum reach across the student body and faculty. Specific design considerations were followed to ensure the message was easily understood. Read the full story here.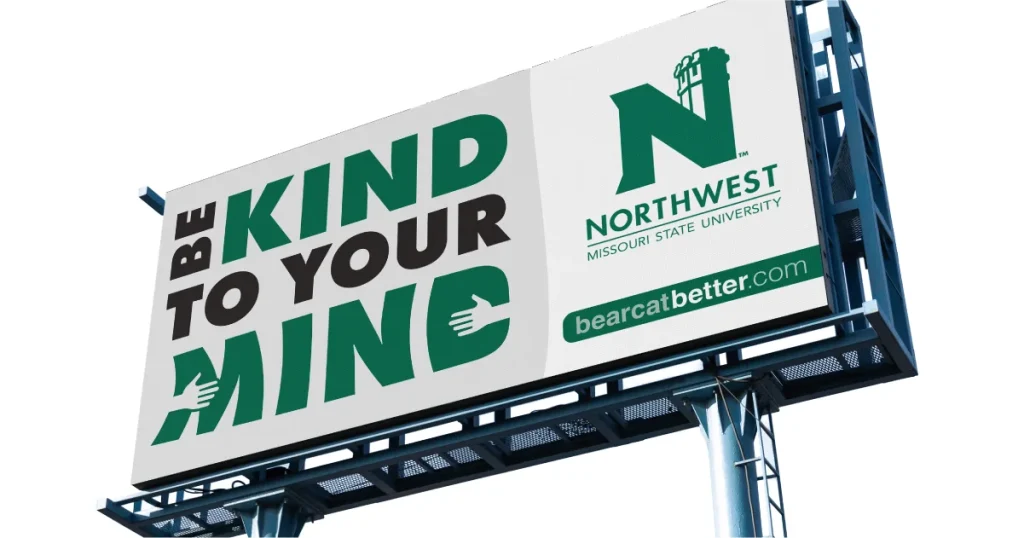 ---
How to Measure OOH Advertising
When it comes to measuring the effectiveness of your OOH advertisements, there a few best practices we can recommend to follow:
Unique landing page/ URL redirects: Landing pages and URL redirects can be used to measure the number of page views, bounce rate, session duration, and conversion rate of traffic driven to your website via OOH.
QR codes with custom domains: QR codes are not only a great way to measure and gain data-driven insights, but they also simplify the user experience making it one of the most seamless ways to measure campaign success.
Unique hashtags: Creating unique hashtags can allow you to track the number of posts using the hashtags, how many users interacted with them, as well as the reach and impressions for your specific campaign.
Comparing YOY KPIs: We always advise our clients to begin with the end in mind. What is the overall goal of the campaign as a whole, and what purpose does OOH play in helping to reach that goal? Once determined, you can often measure year-over-year foot traffic, inquiries or purchases in geographies where OOH ran. Another option is to conduct a brand lift study in markets prior to and after launching your campaign.
As you can see, out-of-home advertising can be an effective way to promote your brand. With more than 75 years of knowledge and experience, we'd be thrilled to partner with you in your endeavor to promote your business! Contact us to get started today so you can utilize out-of-home advertising to push your brand to its full potential!