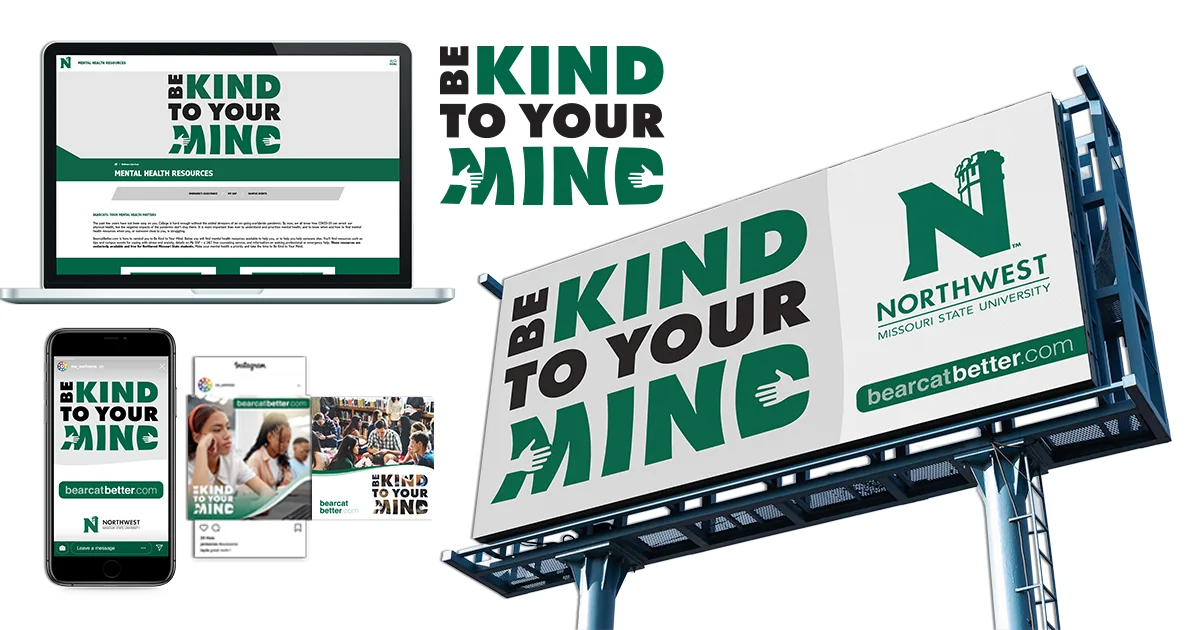 Marketing Campaign
Northwest Missouri State University was the only non-municipal entity in the state to be awarded a federal grant to combat mental health stigma and barriers in a post-COVID world. They first allocated funds to partner with an app, My SSP, which provided 24/7, free counseling services to their students. Northwest selected Lundmark Advertising to assist in creating and executing a multi-channel campaign to promote My SSP, alongside other resources, to the student body and the broader community.
The initial step for Lundmark was developing and presenting campaign concepts to the client for consideration. The campaign, "Be Kind to Your Mind," was ultimately chosen by the Northwest Wellness Services staff. Secondly, a multi-pronged approach was devised, including outdoor, print, web, and social media. Lundmark worked closely with Northwest IT to create BearcatBetter.com, a dedicated landing page for the campaign content and resources. Finally, to supplement the initial creative, Lundmark produced a series of videos for social media, targeting various demographics of students and mental health issues, while optimizing for engagement and preventing ad fatigue.
Lundmark's thoughtfulness and creativity were greatly appreciated by the client. The social media campaign, directed at 5,000 students, garnered over 2,000 link clicks, while the creative content received over a million views. Increased awareness of My SSP and the school's mental health resources resulted in positive engagement and reactions to both the Northwest Wellness Services and the campaign.