The Packaging Design Process
The Packaging Design Process can be daunting to some, but to us, it's just second nature. We will guide you through the process, and help you navigate the necessary steps to bring your custom packaging/labeling to market successfully. We ask a lot of questions, research the landscape, understand the printing capabilities, put on our creative caps, pull out our proofing checklists, and get rolling.
Begin with the End in Mind
A lot of groundwork needs to happen before packaging comes to life. Beginning by answering questions can help you save time and money during the creative process.
Who is the target audience and what are their views of the product?
Who are the primary competitors? Gaining insights into who your competitors are can help guide decisions on packaging elements.
Determine the distribution channels the product will be sold in (in-store, online, multi-channel). Certain distribution channels have packaging requirements that should be considered early in the design process. Plus, analyzing those channels can give insight into determining what elements the packaging needs to be a winner at shelf!
We recommend conducting consumer research if none exists to help answer these questions and provide guidance for the package design. Discovered insights, including consumers touchpoints can be translated into a winning design and pave the way to success!
Another example of interaction within the Awareness phase is Event Marketing, such as the live events Lundmark produced and managed for Sport Shake, a product of Dairy Farmers of America. Known for being a trusted protein shake for over 40 years, the client's goal was to increase retail distribution in select markets and awareness across a new, younger audience. Read on about how Lundmark and Sport Shake energized these markets.
Focus On What's Important
Identifying the product benefits and key selling points are very important. Some questions to ask are:
What are the most important benefits of this product? Identifying benefits can be instrumental in choosing elements that can be included in the package design to help sell your product.
How does this product differ from its competitors? It's important to identify what makes your product a step above its competitors. Being unique on shelf is essential to separate your product from the crowd and invite a prospective buyer to purchase.
What messaging hierarchy is needed? It's important to keep elements on your packaging to a minimum. Too much information can be confusing and distracting. Try to determine the 3 top elements that you'd like to see on your package, and make sure the design allows your eye to follow the messages in order of importance.
Would photography  be instrumental in portraying the product more accurately and draw attention to the consumer's eye? The consumer processes images much faster than words, so considering photography of some kind, whether it's stock photography or custom is highly recommended.
Remember, a package has less than 1-2 seconds to catch a consumer's eye That's not very long! On average, a consumer is only reading 10 words on a shopping trip, which includes in-store signage. (Source: ExplorerResearch.com) Where they are looking is also important.
If the packaging is for a completely new product, additional questions to consider include:
What elements are needed to attract consumers to make a purchase, but also accurately portray the product?
What kind of packaging best suits the product and will be the most advantageous to sell the product?
If refreshing existing packaging, or adding an extension to an existing product line, identify what changes could be made or elements that could be added that will catch the consumers eye.
Coordinating With Your Packaging Printer
Coordinating with both the printer and manufacturer of your product is essential at this point.
Printer specifications are vital in the creative process so that time and money are not wasted. The following questions will lead to discovering the necessary.
Is there a current die line or is there one that could work for the product?
Are there color limitations or other print restrictions based on the type of material or substrate?
Does the packaging contain a window or clear area where the product can be seen?
Can photography exist on the packaging and help convey messages that words alone cannot?
Are there any print limitations that would affect the number of colors used, quality of imagery, or the size of the UPC?
We can talk to the printer on your behalf and help identify the required information that is needed to create the packaging artwork.
Coordinating with your product's producer/manufacturer is also a wise idea. They can give direction on whether there are different packaging options for your product and give recommendations on best practices as well as relay any limitations that exist. For instance, where does the expiration date stamp get printed? We'll make sure that area is free of competing graphics.
Once all the groundwork has been done, it's time for the creative design to begin – that's where we really shine! We always create multiple creative concepts to explore different ways the packaging could look and to visually see how the pre-determined elements might come to life – all to reach the desired outcome!
One such example of this process, is Lundmark's work with Casey's as they were establishing a private-label brand of ice cream. After reviewing consumer insights and analyzing a very competitive ice cream market, we arrived on the brand name, Happyness by the Pint. Once this direction was determined, the visual creative process began with rationale behind each element of the packaging. You can read more about the Casey's ice cream project.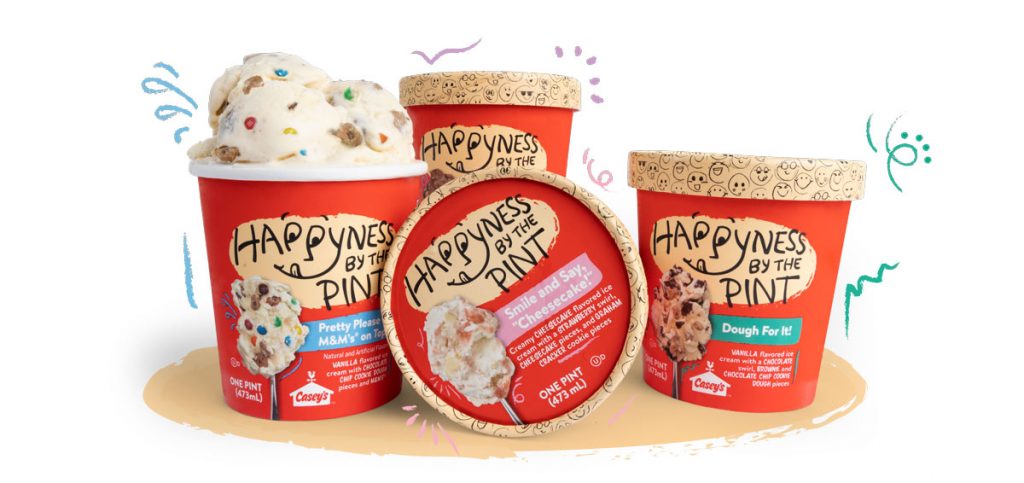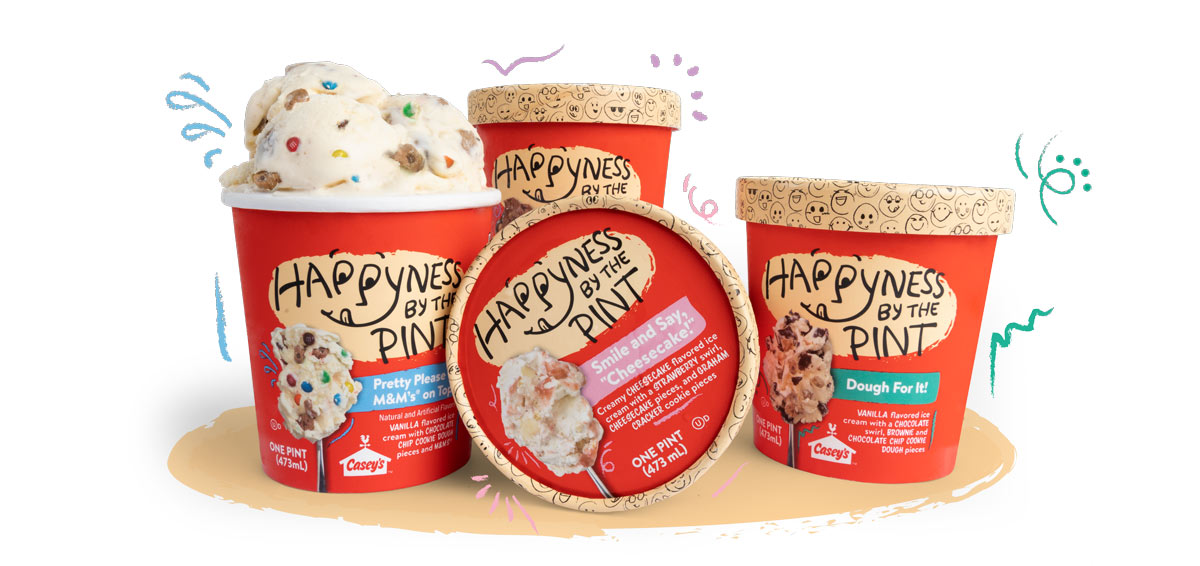 Another example from a different but equally as competitive industry is Lundmark's work with Trapp, a popular candle company. They had identified a need for a brand refresh of their seasonal line of candles, one that would stand out from their competitors, still be easily identifiable as Trapp, while also highlighting the individual appeal of each one of their scents. Lundmark analyzed local and national competitors and approached this refresh with strategic messaging hierarchy and packaging design options. You can read more about those strategies and the success of the Trapp candle package project.
To help evaluate the preferred concept, we can also create 3D renderings and a shelf set (if applicable) to help you see how the package will look on a potentially cluttered shelf environment, which could result in clear indications that modifications need to be made to the design.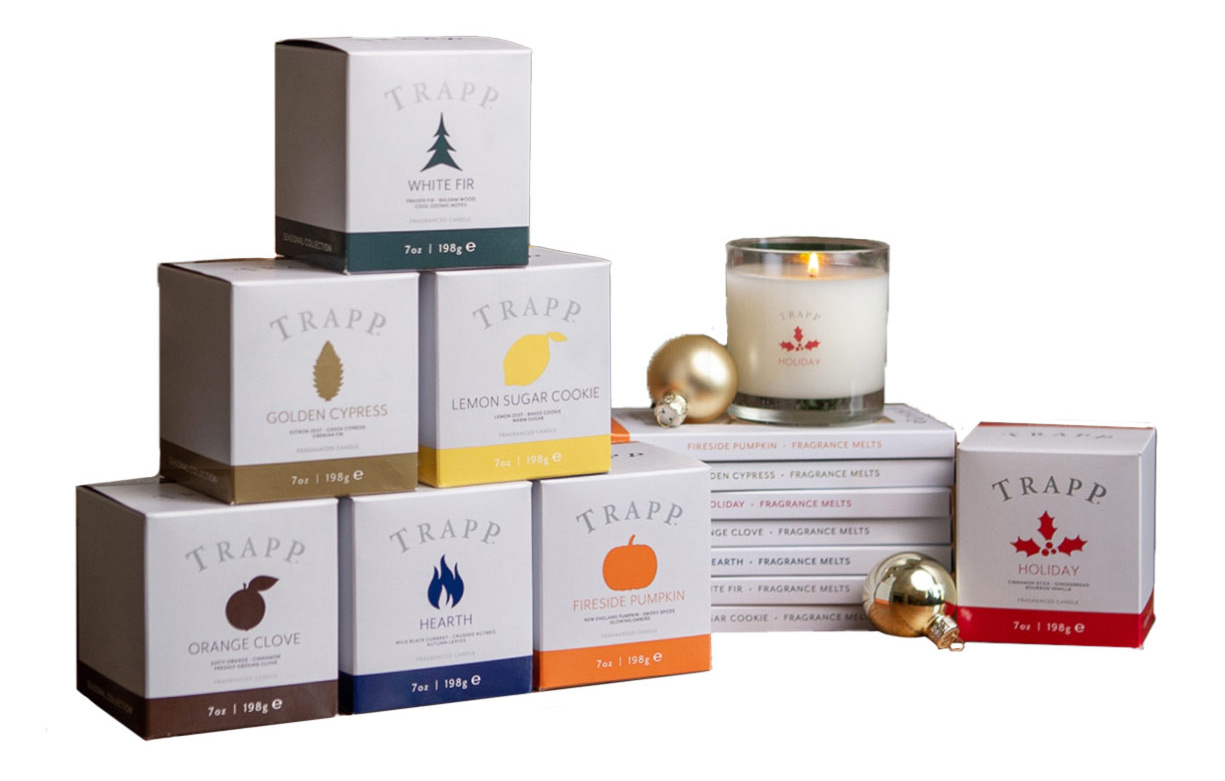 Details, Details, Details
Regulations on packaging, regardless of the product, can be tedious, cumbersome, and if not heeded properly, can halt your product roll-out in its tracks, or even incur fines. Lundmark specializes in knowing, understanding, and following the regulations and guidelines enforced by the FTC, FDA and other regulatory bodies. Our experience spans across product categories, including food and beverages, consumer goods, financial institution products, and more.
Awareness of any regulatory requirements is essential when designing packaging. With food products, for example, there are FDA regulations that guide what needs to appear on the package. Items such as nutrition fact panel, ingredient statements, product identifiers, net weight size, etc. We're experts on working with you to ensure that any government regulations are incorporated into your packaging, so you don't have to worry about any delays or complications further down the road.
Throughout the packaging design process, we keep the necessary regulations in mind so that no one falls in love with a concept that can't legally be executed. There is also a thorough review of all elements completed by several tiers of proofers, from designers up through ownership, to ensure that each regulation is being adhered to appropriately.
Once all artwork has been approved by all necessary parties, we can finalize the art, package the artwork, and send it to the printer or whomever you choose.
We can also help you with printer's proofs (digital and/or hard color proofs and ink drawdowns, if necessary), ensuring that the printer has accurately and correctly converted the artwork into their pre-press preparation. We can attend onsite press checks, as well, if requested.
The package design process is complex, but we enjoy taking care of the minutia so you don't have to. We're here to help you navigate through that process so that your product can reach its highest potential! With more than 75 years of knowledge and experience, we'd be thrilled to partner with you in your endeavor to make your product the best that it can be! Contact us to get started today!