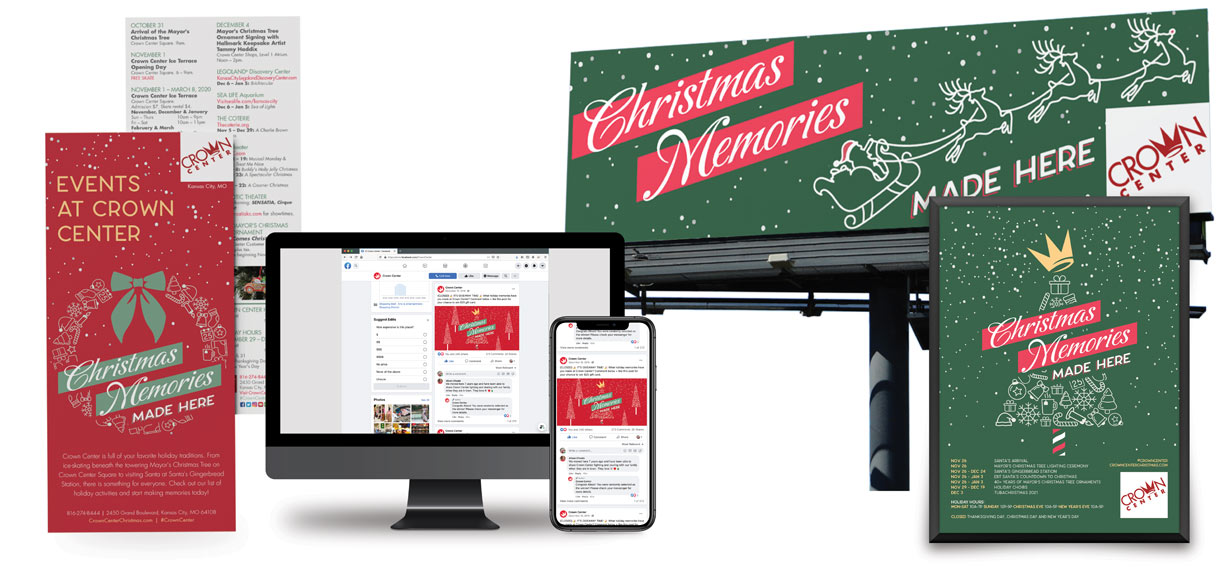 Marketing Campaign
Crown Center, Kansas City's premiere family-friendly district, was looking to capitalize on the Christmas season by boosting attendance at their festive events and attractions, while increasing revenue for their retailers and restaurants. Lundmark was tasked with developing a comprehensive media plan and the creative deliverables that would produce significant, measurable results.
Lundmark planned and executed a media plan that spanned across all channels, including outdoor, television, radio, print, digital, social media, as well as coordinating with area influencers to amplify exposure for promotional events, such as Santa's Arrival. The chosen media partners achieved the objective of maximizing reach throughout the area, while digital and social media strategies were chosen to offer measurable results and targetable audiences. Lundmark negotiated contracts, designed and updated creative elements, drafted all copy for articles, ads, and social media, while also managing vendor relationships and performance to ensure the contracts were being fulfilled for the client.
The successes were immediate. At the first two events which kicked-off the Christmas season, the opening of the Crown Center Ice Terrace and the Lighting of the Mayor's Christmas Tree, the crowds were estimated to be the largest in recent history. Multiple merchants within Crown Center reported their best months of revenue ever, and Lundmark saw record-breaking successes with paid social and digital campaigns. The Christmas paid social reach campaign achieved an average $5.86 CPR, 18.5% better than the current standard, while the Ice Terrace paid engagement campaign averaged a $0.01CPE, 84% better than current industry standards. The client was thrilled with the results, and we will be using this media plan as a framework for future opportunities with them.