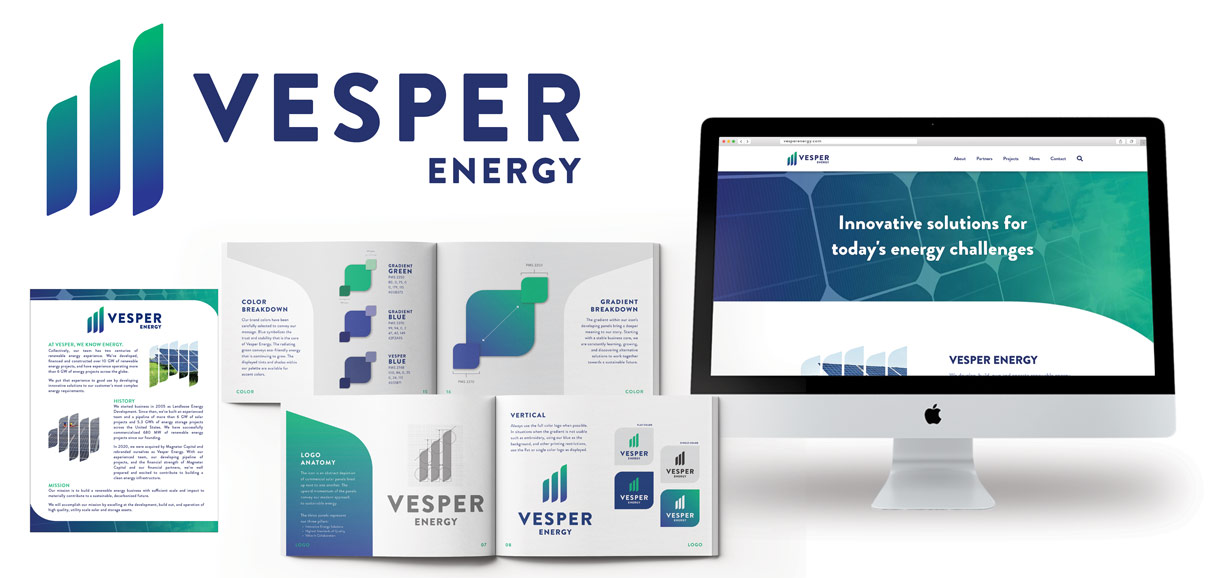 Brand Development
Vesper Energy develops, builds, owns, and operates renewable energy and energy storage facilities across the United States. After being recently acquired by a larger holding company, Vesper required a professional rebranding and website redesign that would resonate with their various audiences.
Lundmark strategically developed the new brand from the ground up. First, a new logo and color palette were created. The logo icon is an abstract depiction of solar panels lined up next to one another. The upward momentum of the panels conveys a modern approach to sustainable energy, with each panel representing one of their three brand pillars: innovation, quality, and collaboration. The blue and green core colors encourage their mission of renewable energy.
Next, a variety of brand assets were developed to help relaunch the brand. A PowerPoint template, letterhead, business card, email signature, and pocket folder were created to position Vesper Energy as leaders in their industry. A Brand Style Guide was developed to outline brand and design elements and guide consistency in the future.
Finally, a new website was built to highlight the team's experience and detail the variety of projects in development nationwide.
Vesper Energy staff was thrilled with the result as the new brand was rolled out to employees, investors, and customers. Working together with their partners, Vesper Energy is creating a clean energy future.