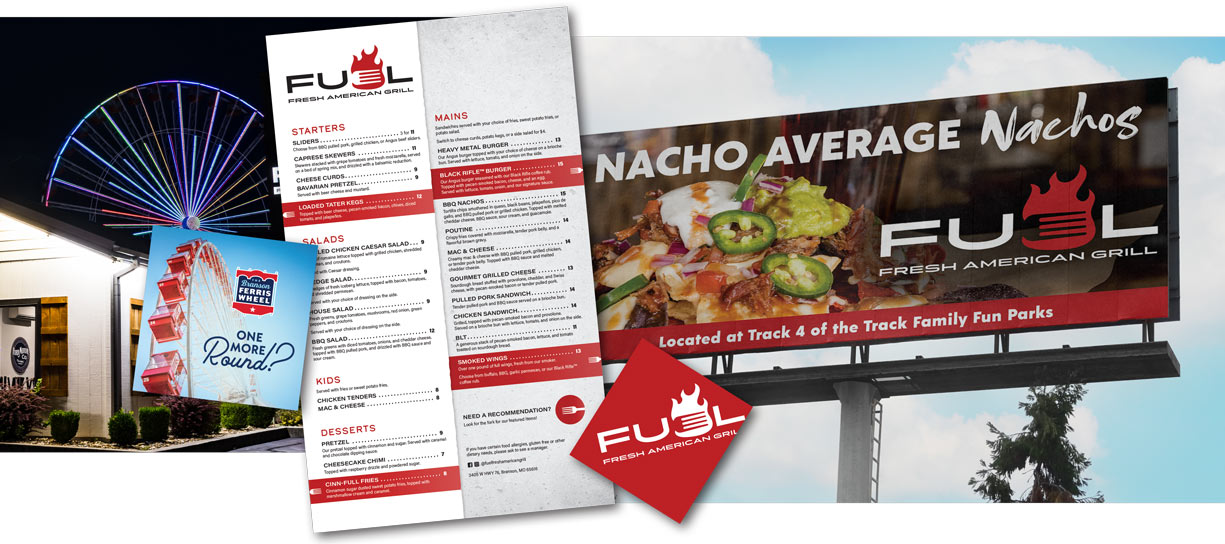 Brand Development & Restaurant Launch
The Track Family Fun Parks in Branson, Missouri is a family friendly fun park featuring high-rise go-kart tracks, classic go-karts, laser tag, bumper boats/cars, Skycoaster, Skyscraper, The Branson Ferris Wheel and more! The Track wanted to provide up-to-date dining options for their visitors, so they opened a fresh and modern American grill that would appeal to all ages.
Lundmark was challenged to develop a name and brand for the new dining concept that would tie-in with the theme park and resonate with their visitors. After researching The Track, and talking with loyal customers, it was apparent that the number one draw to the park was the go-karts. So, what better name for a new restaurant than Fuel!? The next stage was developing a brand that would resonate with the visitors and yet be fresh and modern enough to stand on its on. Once the name and identity were established, Lundmark set out to develop the brand across signage, menus, and marketing efforts.
The launch of FUEL has been tremendous. The new brand fits The Track perfectly and is a great compliment to other food and beverage options in Branson.