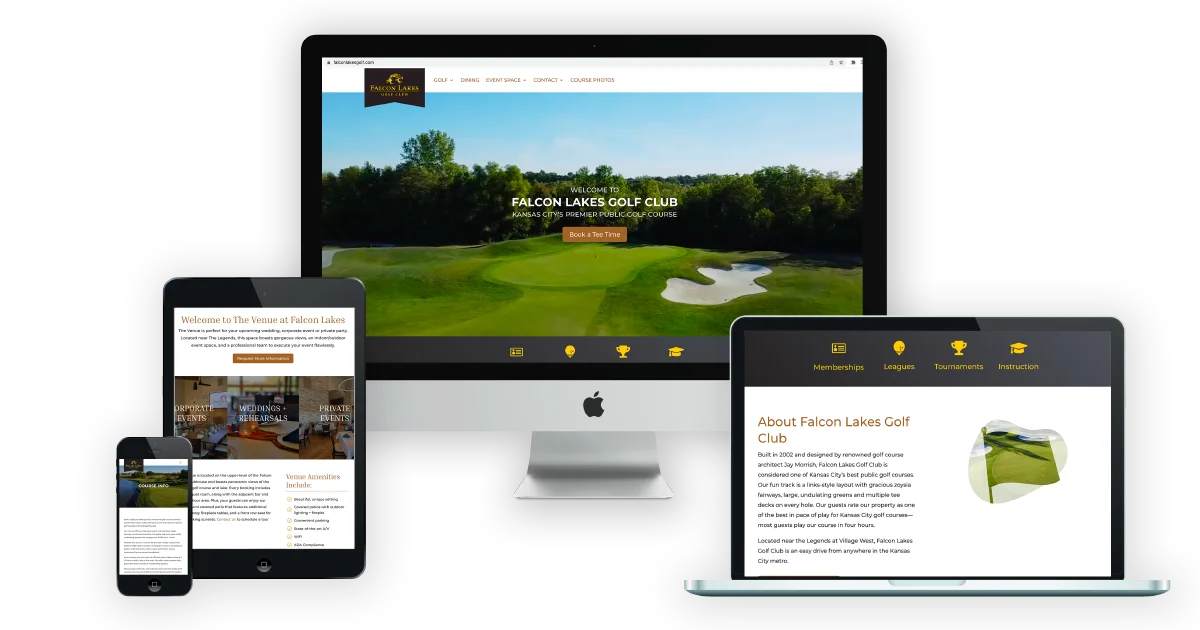 Website Redesign
The Challenge
Falcon Lakes Golf Club is one of Kansas City's premier public golf facilities, however their digital presence didn't match the quality of their property and offerings. They wanted to elevate the appearance and functionality of their website to raise awareness and attract new customers. To do so, they needed new imagery and video to adequately capture the aesthetic and amenities available at the course, as well as feature a recently renovated event space that could be rented for corporate and private events.
The Solution
Lundmark analyzed key competitors in the region to ensure differentiation was maximized throughout the messaging. Photoshoots of the course and event space, including aerial video and photography, were conducted and highlighted on the new website. The new site also featured an improved, streamlined user experience and search engine optimization. As the majority of users viewed the site on mobile, it was important to ensure that all content rendered appropriately across common device sizes, and that primary functions, such as booking tee times, were presented prominently on the home page.
The Result
Ownership and staff raved about the new imagery and video, appreciating the efforts taken to properly present the course in such a high-quality, positive light. The new website has improved engagement across a variety of digital metrics, and plans are underway to promote the new site to golfers and event planners across the region.