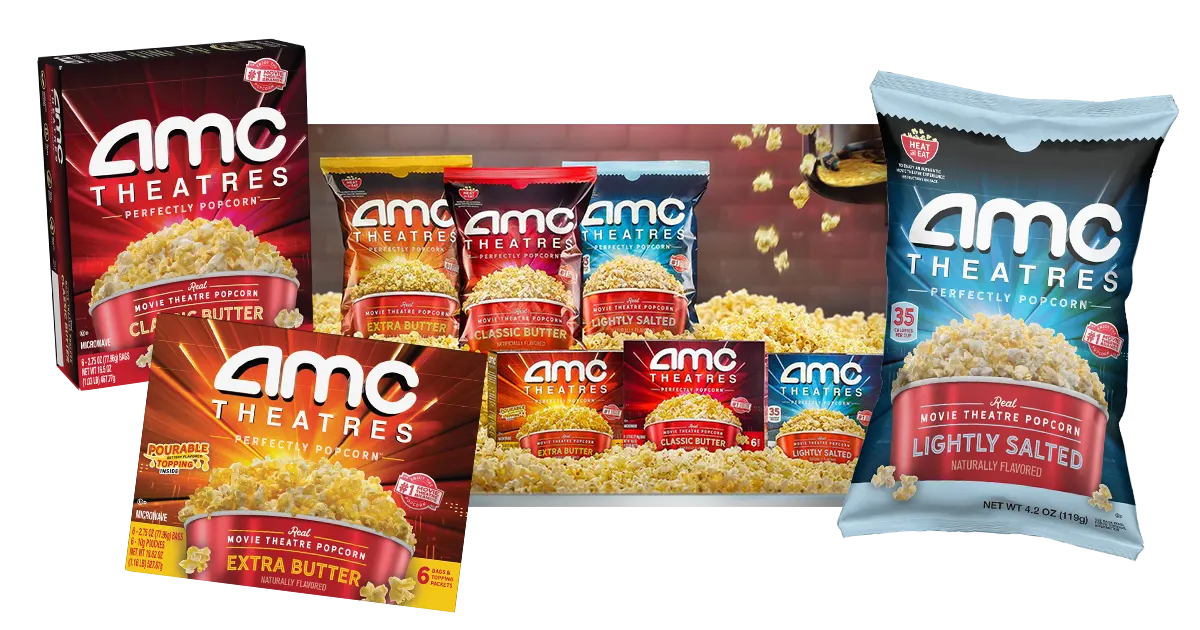 Brand Development
AMC Theatres is the largest global movie theatre chain and the #1 seller of movie theatre popcorn. Wanting to expand their impact on the movie-enjoying experience from the cinema to the sofa, AMC aimed to launch an entirely new line microwavable and ready-to-eat popcorn: AMC Perfectly Popcorn.
Lundmark was challenged to prepare six new product varieties for launch, working closely with AMC's creative and marketing teams. With substantial expertise in packaging and print design, Lundmark was a vital partner in preparing this new line of products. We were tasked with ensuring labeling met all FDA regulatory standards, setting up art files to meet printers' specifications as well as communicating with the various printers to maximize the art for impact and consistency across various printing methods, and creating 3-D renderings of the packaging for retail support. Lundmark also attended press checks with AMC's creative team to ensure quality and accuracy of the final design.
The client was thrilled by the high level of effort and attention-to-detail Lundmark brought to the project. Thanks to extraordinary efforts to hit crucial deadlines, AMC was able to launch its line of ready-to-eat popcorn in the Kansas City-area the day before the Oscars, and will continue to launch in more than 2,600 stores throughout its exclusive roll-out partnership with Walmart. The entire line is anticipated to spread to more retail outlets later in the year.