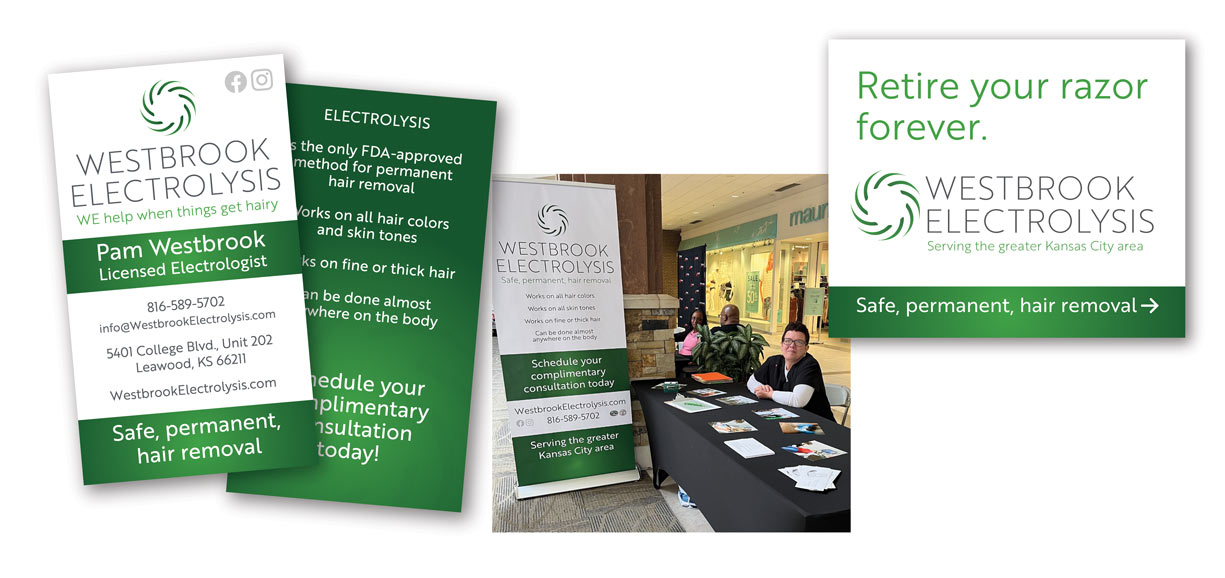 Brand Development
This fledgling family-owned business had opened their doors just a few months before connecting with Lundmark. Although Westbrook Electrolysis was off to a great start with word-of-mouth customers, that had leveled off with about 50% of their available appointments booked. With a plan to triple their staff by the end of the year, they knew they'd need to find a way to reach more customers to keep their team busy.
Lundmark evaluated the company's digital presence, brand look, and current advertising efforts. After educating ourselves on the electrolysis industry and Westbrook's unique attributes, we researched competitive companies locally and regionally and provided our recommended strategies to put them on the path to success.
We resolved an issue with Google maps that was keeping people from finding their business, optimized their website, and helped them set up accounts to place ads in multiple digital environments. Lundmark designed a new logo featuring a radial logomark that signifies the revolutionizing freedom of permanent hair removal. This new branding was applied to all aspects of the business including stationary, signage, website, and social media accounts for a professional, comprehensive, and memorable brand impression with customers..
Almost immediately Westbrook Electrolysis started receiving inquiries from potential customers who could now find them on Google. With a new look and support materials the company is confidently promoting their business in the community and seeing their appointment bookings grow.