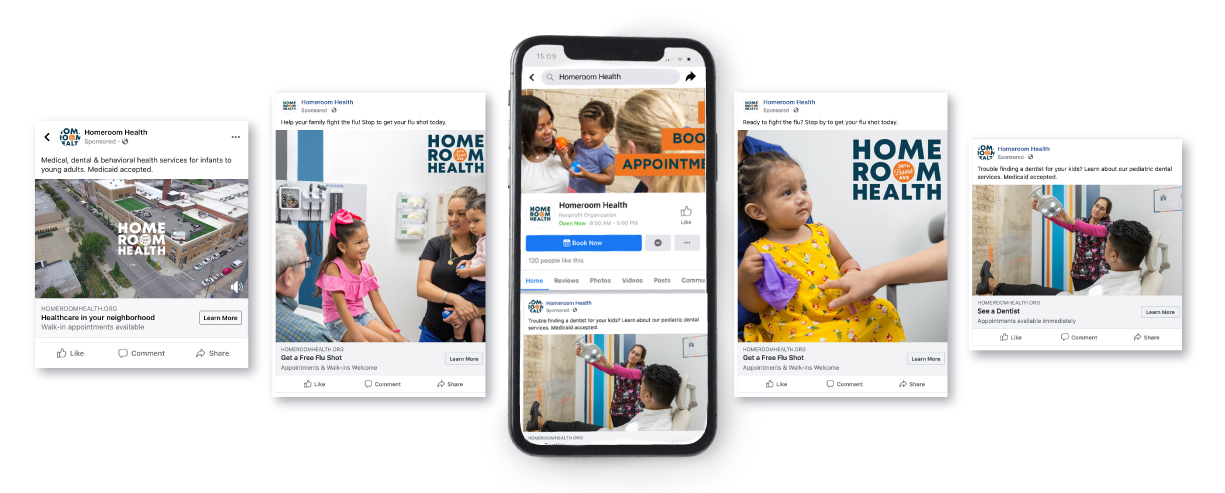 Social Media Marketing Campaign
Homeroom Health is a fully integrated health center for infants, teens, and young adults. With community partners, Cornerstones of Care and KC CARE Health Center, it's able to provide medical, dental and behavioral health care regardless of insurance status and ability to pay. Being new to the community, Homeroom Health was looking to build brand awareness and drive foot traffic with social media marketing.
Homeroom Health turned to Lundmark to launch a paid social media campaign with the objective to generate foot traffic and push users to HomeroomHealth.org. A three-month social media campaign was developed, with each month promoting a core service of Homeroom Health. Two distinct audiences, teens/young adults and parents, were targeted via geographic and demographic tactics.
After each month, a report was developed to help assess performance and optimize the following month's strategy. The campaign resulted in over 521,000 impressions, reached 88,298 unique users and delivered 2,580 clicks. Most importantly, Homeroom Health saw increases in both foot traffic at their clinic as well as online appointments generated during the social media campaign.