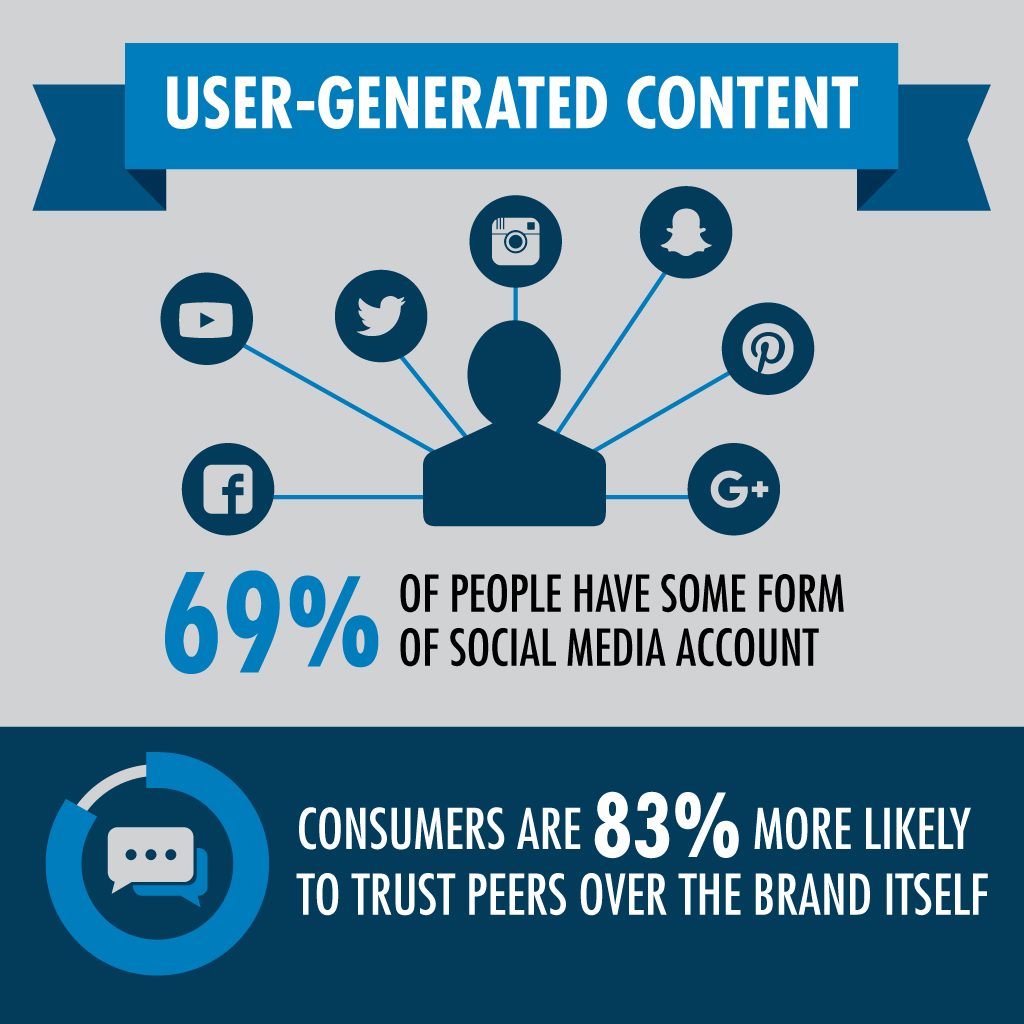 Most successful brands have implemented some form of a content marketing plan. If done effectively, content marketing can push out valuable and meaningful content for consumers while also highlighting their brand. However, this can oftentimes be a one-way conversation, and in a world where 69% of people have some form of social media account, it's important to let your consumers share their voices. This is where user-generated content (UGC) comes into play. UGC refers to anything that is created by consumers about your brand or product(s). This can include comments on a social media post, blogs, pictures, a review on a website, or even a video.  
Why User-Generated Content is Important
Online users are getting more adept at blocking and tuning out direct marketing efforts. Instead they turn their attention to user-generated content to provide them with an unbiased opinion. In fact people are 83% more likely to trust peers over the brand itself. These opinions carry even more weight with younger generations that are very reliant on peer reviews when making purchasing decisions.
Companies that engage effectively with user-generated content ultimately garner more attention for their brand. Take Wendy's for example — whether it's hazing a competitor or encouraging followers to break twitter records for chicken nuggets, they have established a connection with their fans and built a large social following because of it.
There are also numerous other social sites that offer a variety of ways for you to interact with your consumers. Users post millions of photos daily on the various social platforms. Chances are someone is taking pictures of your product, speaking about your brand, or at a minimum visually highlighting the industry you are in. To demonstrate the volume and quality of these images, consider that we recently executed a digital marketing campaign for Visit Santa Clarita utilizing user-generated exclusively. Easy-to-use tools can manage the permission process for content shared to your social feed using relevant hashtags.
As we've highlighted, social media is a great way to interact with consumers, but it's not the only way to establish a connection. Simply providing consumers with a platform to give feedback, such as a rating and comment section of a website, or a company-sponsored blog written by consumers, are ways in which brands can engage and create user-generated content.
How to Generate UGC
It can be tough for any brand to pump out relevant content on a consistent basis. So why not let some of your most loyal followers help? Start by engaging with your social media followers and ask for their thoughts; consider a contest providing a small prize for a user sharing their opinion; or start a conversation with a follower directly.
We recently helped the Golf Course Superintendents Association of America connect with their members through the creation of the "GCSAA, Working for Me" campaign. A microsite was created to encourage members to share their own GCSAA story and highlight the valuable membership benefits of the association. The program garnered feedback from members around the world, creating a virtual globe of stories highlighting connections and memories with the association they care so much about.
Coca-Cola's "Share a Coke" campaign is perhaps the best example of an offline promotion that succeeded in generating online content from consumers. By replacing their logo with individual names on the labels of their products, Coca-cola encouraged consumers to share a Coke with friends. The brand relied heavily on word of mouth for the campaign and garnered more than 500,000 photos shared with the "share a coke" hashtag, while also gaining a massive 25 million facebook followers.
Information today is more accessible than any point in history. Rather than shying away from this fact, embrace it and let your fans speak for your brand. Don't think of user-generated content as a separate marketing campaign, but instead as a key cog in your content marketing or social media plans. If you're looking for a partner that can help you strategize the best way to engage with consumers or interact with user-generated content, give us a call. And be on the lookout for our next blog post!