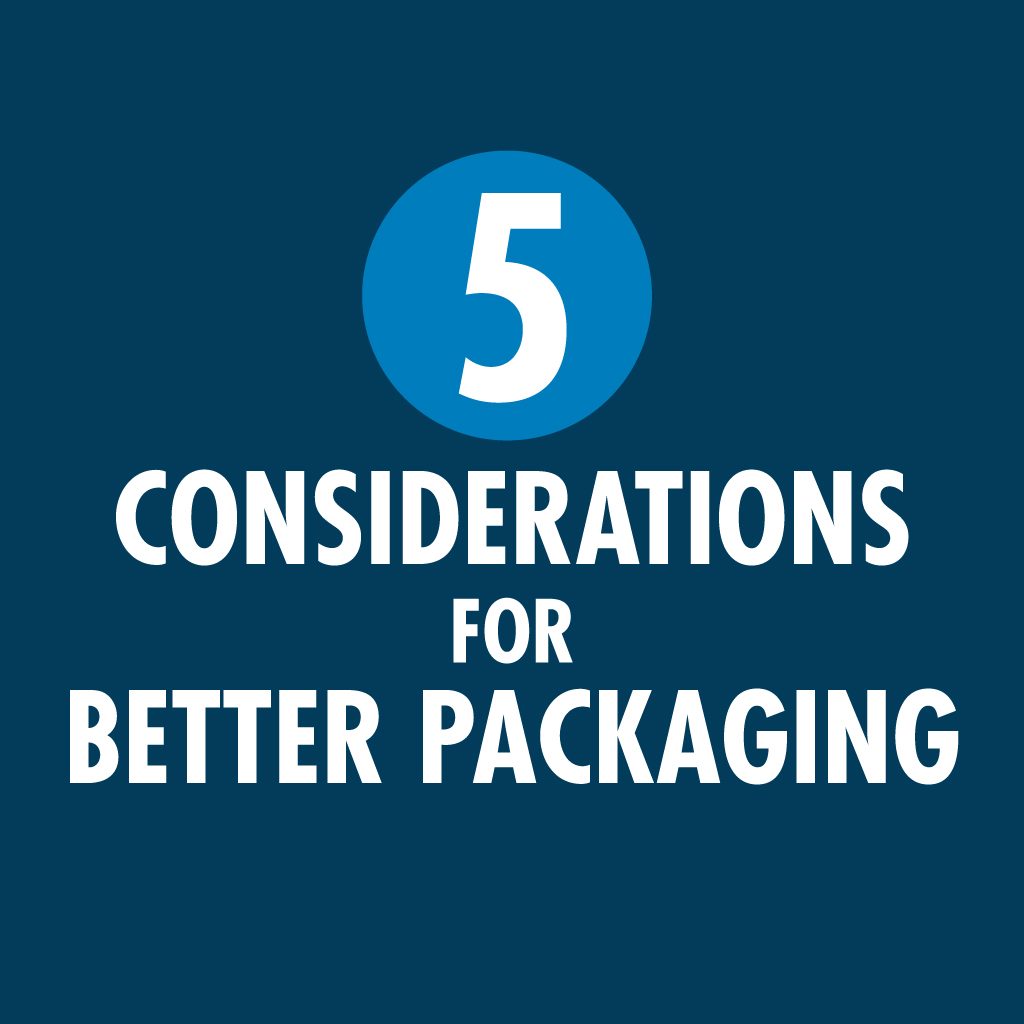 Think of the last time that you went to the store. Was there a box or container that stood out to you? Why is that? Have you ever gone to the store and just looked at all of the different types of packaging competing for your attention? Ok, maybe not. But we sure have, and there's a ton of variety in the types of packaging trying to grab your gaze. Flashy packaging…odd shaped packaging…even packaging that turns it into a utensil. A lot goes into every package and we wanted to share 5 considerations for designing, or re-designing, your packaging that will position your brand for success.
1. Does your package represent the product you're selling?
This may seem elementary, but it is important to communicate with the consumer what you are selling, while not overwhelming them with too much information. Feature your product's unique qualities. Often, packaging can have too much information, and while it's nice to include things like sponsorships, logos, shapes or animals, you can't let your product get lost in the crowd. Your package is your last chance to sell your product, so let your product shine.
2. Is it eye-catching?
Once your packaging is on a shelf, it is important to make sure it stands out. With potentially hundreds of different packages in your segment alone, don't let it get lost in the crowd. Think about why that last package stood out to you. Do you remember the competitors packaging that was sitting next to it? Probably not. That's because brands generally only have a few seconds to catch a consumer's attention. When you are designing your packaging, take the competition into consideration and put yourself in the mind of the consumer. Utilize different colors and packaging materials that will set you apart, capture your consumers gaze and close the sale.
3. Does the package meet government regulations?
While government regulations aren't flashy and won't lead to sales, there are many things that you are required to have on your package by law. These include things such as a statement identifying the commodity, the name and place of the manufacturer and the net quantity of the contents. In 2016, President Obama signed the GMO Labeling bill which requires food and beverage manufacturers to label the presence of genetically modified ingredients in their products. Although this bill has yet to take effect, it is a mandatory bill that will need full compliance by July of 2018. Making sure you understand and follow these guidelines is essential in order to be compliant.
4. Is it easy to produce?
Lundmark has helped many companies with packaging designs and redesigns throughout our 70 years.  What tends to get overlooked the most during the designing process is the production. Production includes everything from printing to assembling of the final product. It is important that whatever packaging you choose is easy to order and produce for however long you will use it. Likewise it is also important to have packaging consistent throughout every SKU within the brand. The same hue at one printer can print differently at another, especially challenging for brands that use multiple printers. Planning for production across all channels is not only key for the end product, it can also save you money in the long run.
5. What is the cost of packing & shipping?
It's easy to get lost in the shape of the box, packaging material, or government regulations when designing packaging, but often the final decision on a concept will come down to how much it will cost to ship. Generally, shipping costs are determined by the weight of the product and the distance it has to travel. The heavier and farther a product has to go the more costly it becomes. Packaging that is lightweight and held at a central location can reduce shipping costs over time and thus should be considered during the planning process.
If you have any questions about your packaging, or ensuring that you are and will meet government regulations, feel free to

contact us

.