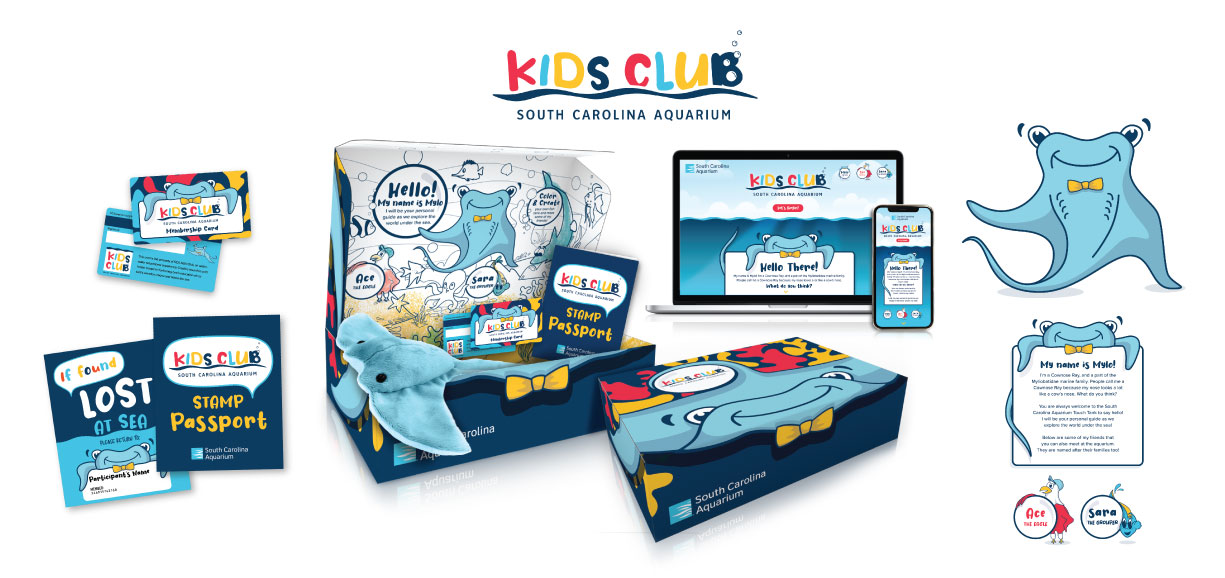 Brand Identity
Lundmark partnered with the South Carolina Aquarium to develop an ocean conservancy education program for children. Specifically, the Aquarium wanted to inspire and build upon the magic of an in-person Aquarium visit for children through the creation of a Kids Club.
The primary goals for the Kids Club were to keep kids engaged with the Aquarium with fun activities they could do at home, build on children's connections with water, wildlife and wild places, and create an additional source of revenue for the Aquarium.
To develop the Kids Club program, Lundmark did a deep dive (no pun intended) to understand the Aquarium and what sets it apart from its competitors. It was important to keep the primary target market – children – in mind, as well as the secondary target of parents and grandparents.
In order to connect with children, Lundmark designed a colorful logo with a bubbly font as a nod to the sea. In addition, they created a fun and approachable character named Mylo. Short for the aquatic animal family name Myliobatidae, Mylo was conceived as a way to make oceanography more accessible to children. Milo was then used throughout the program's assets and deliverables to tie everything together.
Understanding that sustainability plays a core role in the South Carolina Aquarium's mission, Lundmark created a box that kids could reuse as a toy by untucking the side panels to "flap" Mylo's wings, or as a coloring activity. Attention was also paid to create an inviting online experience to maximize digital-only learning opportunities. The stamp book, which was requested by the Aquarium, is a brand asset that can be reused repeatedly by club members.
The South Carolina Aquarium team was thrilled with the results. "Lundmark nailed it when it came to connecting to our target market in terms of the age range," says Amie Yam-Babinchak, director of marketing, sales and strategic communications, South Carolina Aquarium. "We appreciate how they paid attention to that and created approachable characters like Mylo."