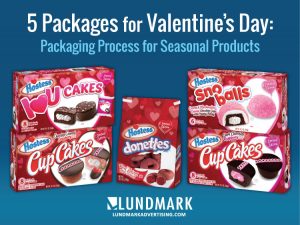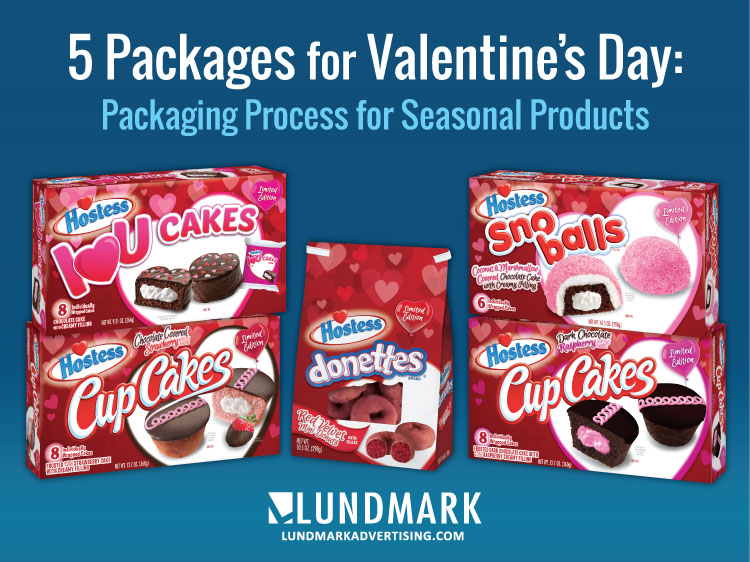 Lundmark developed a Valentine's Day package line for Hostess snacks. Take an inside look at the packaging process, from concept to shelf.
Lundmark's excitement for Valentine's Day has been gushing since Hostess asked us to develop concepts for five new packaging designs. As part of the seasonal update, existing products have been dressed for the Valentine's holiday, and new products have been added to the snack lineup. Designing and developing a seasonal package line can achieve great results due to a strong theme within the season and consumer excitement for the season, ready to grab new packages and products. 64% of consumers try a new product because the packaging catches their eyeª. A new look on the shelf and special space in the store translates to an increase in sales. Valentine's Day is second to Halloween, in terms of increased sales of snack items, followed closely by Easter and winter holidays. Showing that opportunities abide in seasonal snack packaging design.
Our longstanding relationship with Hostess and their innovation team gave us a great deal of creative inspiration. Hostess Red Velvet CupCakes have been a hit and the new Dark Chocolate and the Chocolate covered Strawberry cake varieties are sure to be requested year round. After sampling the five delicious new products, which received a unanimous thumbs up from the design team, we went to work.
Here is a brief look into the package design kick-off process for the seasonal promotion. The first step was to analyze the competitive landscape. This includes in-store, trade, online and other research into the existing market, and consumer insights. From there, our team of creatives develop concepts. Initial rounds of concepts begin to form the general look and focus of the product. The concept process is refined through parallel collaboration and rounds of thoughtful consideration to the target consumer, the shelf environment, and global brand identity. Product samples arrive and rough photography takes place. Once we have several strong options we present to the client and seek marketing feedback and concept approvals. Once approved, we finalize all images and illustration, including photo styling and photography with our in-house team or collaborating with outside partners. Our vast experience in food package regulations and legal requirements streamlines the layout stage. This ensures that packages don't miss deadlines while hung up in legal and regulatory revisions or corrections. Ingredients, "Nutrition Facts" and UPC's are all processed and double check by the Lundmark team. Our internal proofing process is also a time saver for our clients, as we make every effort to ensure the packaging process is free from slowdowns as we enter in the client's inter-department approval stage.
Lundmark excels at managing the packaging process, keeping package manufactures and printers on track. From sending artwork files to the printer, receiving color draw-downs, printers proofs and attending press checks, we oversee all aspects of producing the final package. We don't stop there, we also manage packaging assets for press releases, grocery circulars, c-store in-store graphics and market launch. The final step is our archiving process that ensures we can pick up the package art at any time for the next season or holiday.
Now we wait, eagerly checking the grocery aisles to see our new work come to life in the hands of consumers!
See what the industry is saying about the new seasonal line:
Hostess launches five limited-time-only snack cakes
ª MeadWestvaco Packaging Matters™ Annual Survey, US; The Purchasing Process In-Store.