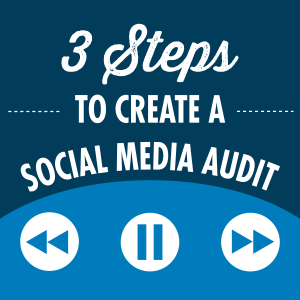 Has your brand's social media been on repeat to the point that it's become white noise? Before you change the playlist, let's look at performing a simple audit that will help you rethink and revamp your social media.
A social media audit is simply a review of social media platforms in order to analyze what's working, what isn't, and what can be improved.
Follow these three easy steps to conduct a social media audit for your brand.
It can be easy to get in a rut of repurposing old content. If a post performs well, the content will get reused.
Let's press pause on that strategy and assess the content that you have posted recently. Followers may be familiar with seeing posts that have branded copy, images or icons. It may cause confusion (and could be irritating) amongst followers if things change drastically. To prevent that, let's look at content from the past few months in a broad view.
Here are a few areas to dive into:
Content categories/topics: What holidays are celebrated every year? Are events created? Do you host any giveaways or promotions?
Hashtags: What platforms are the #'s used on? How many people are using the # when searched? Is it relevant to the post? Are there local #'s that could be used? What are similar brands using?
Competitors: Who are your brand's primary competitors? What content do they create? How engaged is their audience? What makes them stand out?
No one likes listening to a song on repeat. By reviewing past content, you'll quickly get a baseline of your brand's current social efforts.
Now that we have a clearer picture of what content has been published in the recent past, let's rewind and assess the content deeper through analytics. Pulling analytics can be done directly within each channel or through a third-party platform (e.g. Hootsuite, Sprout, etc.).
Here are examples of metrics to get started:
Posts –  How many posts are being published each week (or month)?
Followers – The number of users who have opted-in to "follow" your profile or page.
Page likes – The number of new users who have liked your page.
Reach – The number of unique users that saw your content.
Impressions – The number of times a post from your page is displayed.
Engagement – The number of times users have engaged with your posts through likes, comments, shares and more.
Time of day – Look at audience insights to review the time and day followers are most active. What time do you post? Is it the same every time?
Audience – Age range, location, interests, etc.
By digging deeper through analytics you will be able to distinguish why certain posts performed well, and equally as important, why they didn't. These insights will ultimately guide your new social media strategy.
Finally, it's time to press play and create the new social media strategy.
When creating the new strategy, consider setting attainable goals. It may not be realistic to set a goal of increasing your social media following by 70% in a month, but 10% may be doable. Once you have your goals defined, create a plan for how each goal will get accomplished. For example, if the goal is to increase your social following by 10% each month, you may consider creating new brand ads to target look-alike audiences.
Consider focusing on increasing engagement to start. As Facebook continues to reduce the reach of organic content, it is important that your posts generate engagement. According to Buffer, in 2013 a Facebook Page could reach about 12 percent of fans with each organic post. In 2018, that number was smaller than six percent. On average, for every 100 fans, an organic post will only reach five or fewer. Therefore, whatever your strategy is (organic content specifically),  your followers may not even see it. Engagement is essential for your brand's social media to build brand loyalty and drive awareness. Some ways to increase engagement are:
Implement giveaways/contests with a call to action (comment, like, share, etc.).
Write copy that includes a call to action to encourage engagement.
Engage with followers in tagged posts.
Whatever your strategy, let your creative voices sing!
Let us know if you're looking for additional ways to analyze your social media. We would love to help you turn social media into a valuable brand-building asset.