Whether you're connecting with an old friend or keeping up with the latest news, there's no shortage of social media platforms that you might consider. From the popular Facebook, Instagram, and Twitter, to lesser known sites like Yammer and Chirp, each platform is unique in their own right. Brands rely on these social media platforms to connect with their consumers, now more than ever. In fact, it is estimated that there are over 70 million businesses pages on Facebook alone. By evaluating which platforms are appropriate to connect with your customers and customizing your social media strategy accordingly, you'll start to stand out from the competition.
Shy Away from Cross-Posting
91% of retail brands use two or more social media channels. While this can be beneficial for companies to cast a wider net with their key consumers, it can also lead to a cross-posting social media strategy or the practice of posting the same content across social platforms. Many platforms provide plug-ins that allow you to publish your posts and photos on various sites, making it easy to fall into the trap of cross-posting. While this sounds like a great idea and can make it easier to keep your pages active, it can look unprofessional.
Think about your personal social media accounts. Chances are, if you like a page on one social media platform, you'll be more apt to follow them on another. If a consumer sees the same message on Facebook as they do on their other platforms, it reduces the likelihood that they will interact with the post altogether. To combat cross-posting, we always recommend creating unique content for each platform. While this can take more time and resources, it benefits brands in the long run and is always a great social media strategy.
Additional Best Practices
When creating your social media content calendar it's important to consider a variety of factors for each platform. We've listed a few best practices below for reference:
Verbiage: While this may seem small, using the wrong verbiage on a social platform is very noticeable to active users. Take the word 'Retweet' for example. If you ask people to retweet your post on Twitter, everyone will understand. At the same time, if you tell people to retweet you on Facebook, it's going to look out of place.
Images/Videos: It has been well documented that consumers are more likely to engage with posts that have images or videos. When posting images or videos, be particularly careful with the size specifications for each platform. Similarly, with sites such as Instagram that require images for every post, make sure each is edited properly and consistent with other content on your page.
Hashtags: While hashtags are commonplace on sites like Twitter and Instagram, they aren't used as heavily on Facebook. Hashtags are a great way to join a conversation and learn more about a target audience. We recommend you take some time to follow relevant trending hashtags and, when applicable, use those popular hashtags in your posts. This can get your brand in front of the right audience and spread additional awareness to consumers following the hashtag.
Post Frequency: Posting frequently is important to stay relevant on social media and consumer engagement. That said, it is equally important not to overpost. While it's ok to post several times a day on a site like twitter, studies have shown that other platforms like Facebook and Instagram should be kept to a maximum of two posts per day. Anything more than that and you'll start to see a drop in engagement.
Post Day/Time: For most sites, the timing of your posts on certain social platforms will determine its success. When planning your social media calendar, know when those windows are and stay consistent with those times. If you choose to post around noon, then try and consistently post around noon every day. If you post multiple times throughout the day stagger them as it will have a greater chance to be seen by more people.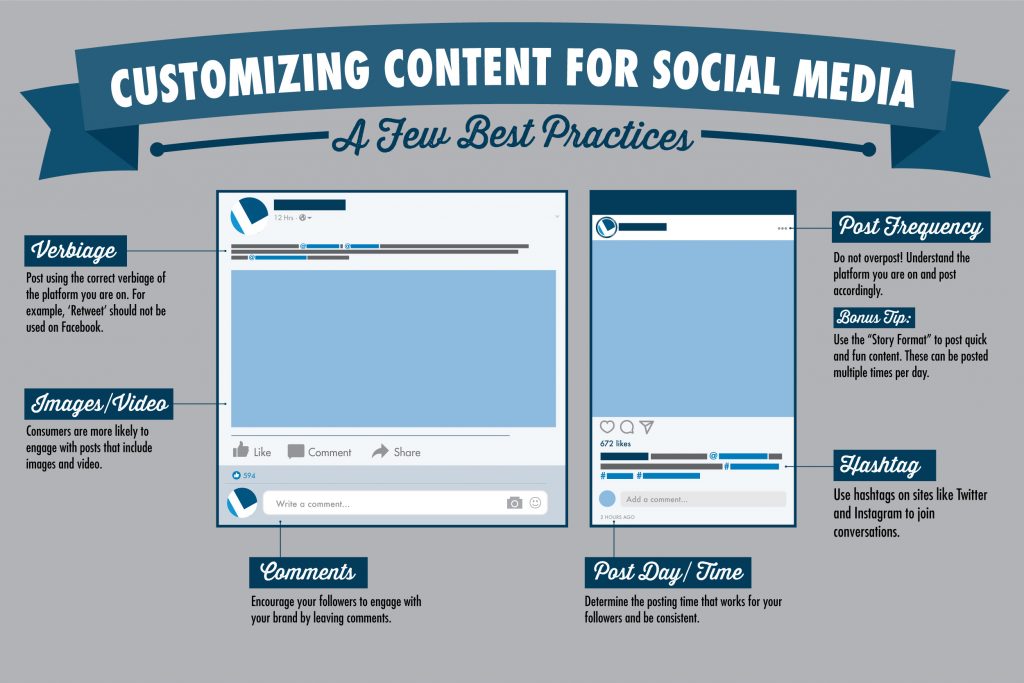 Social Media is constantly evolving, and like any other form of marketing, your brand has to stay up to date to be relevant. If you want to make sure your social media strategy is on point, let us know. We would love to help set up your brand for success.