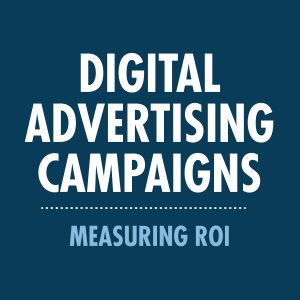 No matter the industry, we are often asked how to better measure the success of digital advertising campaigns. Companies realize the importance and potential of digital advertising, but at the end of a campaign find it hard to discern the results. This can be frustrating when deciding where to spend marketing dollars because although you believe the digital campaign is working, you may not have enough evidence to back it up. To help, we highlighted some digital advertising tips we recommend to companies to better determine their ROI.
Cost Per Impression vs Cost Per Click
Two of the easiest ways to measure the return of a digital campaign is by measuring the cost per impression (CPM) and cost per click (CPC). These statistics are also how most digital marketingplatforms charge for their services. The term CPM is the amount of money spent for an advertiser to obtain 1,000 impressions. In digital advertising, it is generally associated with display advertising on websites. If a company is being charged a $3 CPM, they are being charged $3.00 for every thousand people exposed to their ad.
While CPM measures how many times an ad was served, CPC campaigns measure how much you spend for each click. For example, if your ad is displayed 1,000 times and clicked on 4 times, thenyou only pay for those 4 clicks.
While these strategies can be effective, both Google Adwords and Facebook tend to focus more on CPC for digital campaigns. There are advantages and disadvantages to each. In combination, they allow you to review how many people saw your ad versus how many people clicked to investigate further. While this does not provide an exact ROI, it does provide some feedback on how effective the ad was at catching consumer's eye and drawing them closer to your brand.
Google Analytics and UTM Codes
From an analytical side, one of the best (and free) ways to measure your campaign is by utilizing Google's campaign URL builder. This free program allows you to create an Urchin Tracking Module (commonly known as a UTM code) for the website or campaign landing page you are driving traffic to. The UTM code then allows you to track your campaign in real time, regardless of whether you are using Google's ad network or not. By linking your campaign to your Google Analytics account, you can see how many people visited your website, how long they stayed, how many pages they visited and more. This information gives companies valuable insight as to the effectiveness of the overall campaign as well as data to compare multiple media partners that may be running ads.
Coupons and ROI
While analytics provide the number of people interacting with a campaign, it doesn't show you exactly how many sales and or leads were attributed to a specific campaign. One way we help companies measure their sales conversion rate is by offering a web exclusive coupon. Whether you have a physical store or operate exclusively in an ecommerce setting, offering a digital coupon code allows you to easily measure the number of coupons downloaded and redeemed, giving you a much more accurate ROI. Taking that strategy a step further, if a consumer is prompted to enter in their contact information to access their coupon, not only can a company generate leads, but they can qualify them by issuing unique barcodes for each coupon. At the end of the campaign, you will be able to see how many people converted and gain valuable demographics data.
No matter the type of business, digital advertising campaigns need to be set up on the front-end for success. That means having realistic and measurable tracking goals determined prior to the campaign launch. We hope that these tips and ideas will help you optimize your next campaign.
If you are looking to start a digital marketing campaign, let us know. We would love to help you set your campaign up for success